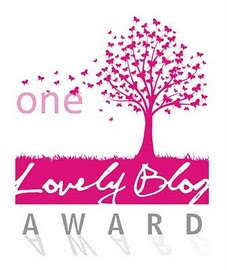 Two weeks ago, Christine from Love Life Surf,  had surprised me with the One Lovely Blog award.  A few days later, Mary from A Teachable Mom, nominated me for a Kreativ blogger award!  Then, the end of last week, Jessica from RunOnOrganic nominated me again for One Lovely Blog.  Wow!  Talk about feeling highly complimented and a little humbled. 
First, I want to thank all of you for your nominations and support.  One of the pleasant surprises as a new blogger is the enthusiasm I have received from others in the blogging world.    
I would like to pay the awards forward, but for the sake of simplicity, I am going to pay all of these nominations forward at one time, using the specifications required by the One Lovely Blog format (or else I will get way too confused trying to follow the specifications of both awards at once).
There are four specifications for accepting the nomination, which I have highlighted in bold below, along with my responses to the specifications.  
1.Thank the person who awarded the award and link back to their blogs
Thank you Mary  and Christine and Jessica!  Once again, you have all been highly supportive of my efforts.  Furthermore, I am a HUGE fan of all of you. For anyone who reads this post, please go check out THEIR lovely blogs!  
2. Tell 5-7 random things about yourself that no one knows.
1)  I'm 4'11''.  If you know me from the blog world, you may not realize this from my pictures.  If you know me in person, you may have figured this one out, because gosh darn it, I'm small! However, for years, I lied about my height and told the world I was 5'0''.  For some reason, that inch really, really mattered.
2) I live in hats. My profile picture on Twitter, Facebook, Google Plus, Pinterest, the blog, you name it, features me in the skull cap. If you see me around town, there is a good chance I have on a visor, skull cap, military inspired cap, or baseball cap, depending on the weather.  What you might not know is that the hat is my big girl security blanket.  That, and they come in really handy on bad hair days.
3) I am a late bloomer in the self- assurance department.  Finishing a marathon last November helped my self-assurance exponentially, because it was living proof that the limits we live with are purely self- imposed.
4) Although one may consider The Fierce Diva Guide To Life a fitness blog, I am vehemently against diets and exercise for the sake of calorie crushing.  I believe that every time we talk about burning calories, or doing exercises specifically to sculpt our butt, arms, abs, etc, we are sending negative messages to ourselves.  Hey, listen, I've been there, and all I can tell you is that I have never once seen chiseled arms and tight abs bring true happiness to anyone, including myself. Real happiness begins inside.
5) To expand upon the point I raised in #4, I will say that eating clean and being physically fit has changed my life.  I am both physically and mentally stronger,  and I have more energy for all of the things in life that matter to me, my family, my friends, my pets, my blog, running, and teaching yoga.  The moral to the story here, is check in with your motives as to why you want to lose weight, be fit, be strong, have a shapely ass, etc.  And always remember that happiness is not dependent upon our external circumstances (or our dress size for that matter).  
6) I have a major crush on Gene Hackman.   It all started when he played Lex Luthor in the Superman movies and it grew from there.  Have fun with that one! 
3. Pass on the award to up to 15 blogs you follow and like/admire/wish they were yours.
Yikes! 
There are many blogs I follow  – I am faithful to around 40 of them.  The blogs that I am ultimately choosing are not only blogs that I admire, but I have had wonderful interactions with the bloggers themselves.  These blogs contain great content, and have lovely creators, who have been very kind and supportive.  Thank you all for your inspiration and friendship!
4. Post the award on your blog. List the bloggers you are giving the award to with links to their sites. Leave comments on their blog/tweet so they know about the award.
Please give these blogs a visit.  They are all lovely!
Namaste, Divas!
©2012 Ilene Evans