The premise: A
willful daughter and her control freak mother lock horns over the demands of
the daughter's competition cheer team.
The cast of
characters:  The Fierce Diva and the
Divine Miss F.  
The major dramatic
question: Will the Diva pull Miss F. from cheer mid-season?
The setting:  Suburbia
The outcome: Hop
on over to Things I Can't Say to find out!  
Wow!  What a week!
I am still basking in the afterglow of my SITS Day, which
was Wednesday, and today, I am the guest blogger over at Shell's place, Things
I Can't Say.
I met Shell through the SITS Girls a number of months ago
(For me, all roads lead back to my SITStahs!) and soon thereafter, I became
hooked on her weekly Wednesday blog link-up, Pour Your Heart Out, a.k.a. #PYHO.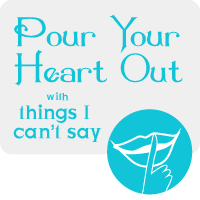 Pour Your Heart Out is a place where Shell welcomes the
contributors to share something they feel strongly about, a passion, a belief,
an issue weighing them down, in an environment without judgment. 
I love #PYHO because it's the place where I can "let it all
out," and let it all go.  It's my place
to vent, whine, share my fears and my rough moments with the kids. Recently, I
have written about holding grudges, a tough afternoon with my rambunctious
children, the complexities of friendship, and my perceived failures as a
mother.  #PYHO makes me feel a little
less inhibited than I would be otherwise to share something personal, which I
attest to the camaraderie I have built with the other #PYHO contributors. 
Which brings me to the next reason why I love #PYHO so
much.  I have connected with a wonderful
community of bloggers, many whose blogs I now follow on a regular basis and
visa versa.
My SITS Day post was about the importance of community.
Shell, thank you for the wonderful community you have built
through #PYHO and for your supportiveness throughout the blogging world, in
particular, for newer bloggers.
Please check out my post, entitled Cheer Mom over at Things I Can't Say.  And make sure to say hello to Shell while you
are there!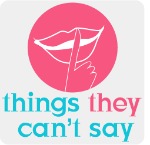 Namaste, Divas!