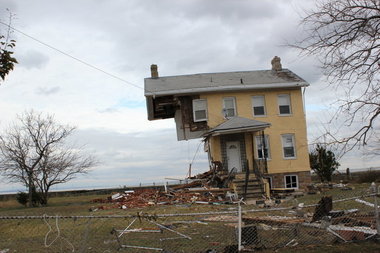 I'm a Jersey girl.  A
Jersey Shore girl to be exact.  I grew up
in the city of Long Branch and now live in a small town on the bay shore, not
far from Sandy Hook. 
While the storm didn't destroy my house or my car or my
first floor in its wrath, I have taken the damage it caused personally.  New Jersey is my home. It is the home of my family
and my friends and my friends' families and their friends.
I know people who lost everything.  Not statistics.  Actual people.
I know people who had to run out of their house so quickly
to avoid the storm surge, that they did not have time to put shoes on their
children, and once the surge hit and destroyed their home, their children literally
had no shoes.
I know people who did not have time to get their animals out
of the house before the surge hit, and their animals drowned.
I know people who sat on their rooftops clinging to chimneys
or roof slats as the flood waters rose, praying for their lives.
The above house, (photo credit to nj.com) has become one of
the iconic photos of the storm.  It is (or
was, for that matter) the "half house" on Front Street, in Union Beach, New
Jersey, this home, literally ripped in half by the storm surge.  
Help has poured in.  But
much more help is needed.  Much, much
more.  Your clothing and non perishable
food donations helped initially, but rebuilding will be a long term effort –
and one that takes money.
Today, I am participating in a nationwide bake sale/auction
organized by my friend Justine at A Half Baked Life to raise funds for long
term rebuilding efforts.
All of the money raised will go to long term rebuilding
efforts via the United Way, who have committed that 100% of their hurricane
rebuilding fund will be a pass through fund, with no administrative fees charged to the donations. 
Some people hesitate to give money.  They are concerned that the funds will not be
appropriated correctly or they are concerned that the little bit of money they have
to give will not "make a difference," and here is where you need to be
corrected.  Every dollar you give will
and does make a difference! This auction is a great way for you to donate a
modest amount of money (unless bidding really gets out of hand!) and to receive
a yummy "thank you" in return.
Please consider bidding on one of the many delicious treats
being auctioned off today and tomorrow. Go here for more information or to place a bid! 
Bidding opens at 8pm EST on the evening of Sunday
the 25th.  Bidding will close at 11:59pm (one minute before midnight)
EST on Monday the 26th.
Thank
you for your support!
Namaste!