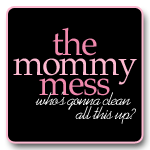 I'm the first one to preach to all of you that life is messy
and that we need to be OK with the mess. 
We need to learn to thrive despite our messes.  
However, I have a confession to make.
I don't like messes.
I ask my guests to take off their shoes before coming into
my house because shoes track dirt.  And
dirt is messy!  
I vacuum my carpets daily and sweep my kitchen floors after
meals.
I could naively tell you that I thrive on order.
Yet, of course, "thriving on order" is a polite way of
calling myself a control freak.
Recently, my little control freaky world was shaken up by a storm.
 As big, messy storm as a matter of fact,
that has left an unprecedented mess for a large part of the Northeast. 
Talk about putting my own mess in perspective!
Please join me today at The Mommy Mess, where I share my
recent lessons learned about messes. 
I am honored to be a guest blogger for Adrienne, creator of
The Mommy Mess.
Adrienne is a wife, mother of two beautiful boys, and homeschooler,
with a strong faith, gorgeous smile, and a big personality that spills off of
every page of her blog.  She writes about
the ordinary moments and not so ordinary moments with love, compassion, humor.   
If you have never met Adrienne, your will just love her. 
To come visit us, click here. 
Hope to see you there!  
Namaste, Divas!