I love my glasses. 
Even though I've been wearing contact lenses since seventh grade, there
is something about putting on a pair of glasses and become a slightly different
version of myself that I've always enjoyed. 
I look smarter, more credible.  I
bet I could conduct an experiment to prove that my boss has more trust in my
work on the days that I show up bespeckled. 
I feel authoritative in glasses.  I feel like an expert…in what, I don't know,
but certainly in something.
I don't at all feel like Sarah Palin in my glasses, however,
from time to time, people have commented that I look like her when I have them
on.
Initially, I balked at the comparison.  Don't get me wrong, I'm not insulted by the idea
of it.  Ms. Palin is quite pretty.  I just don't see it.  Beyond the long brown hair, we don't look that
much alike. Furthermore, my guess is that her hair doesn't smell like incense  all the time.   And besides, we have much different taste in
eyewear.
Come to think of it, we're not really all that alike.
Or are we???
After I had received enough Sarah Palin comments, I did some
nosing around, and it turns out, that Ms. Palin and I have more in common than
I imagined.
Sarah: She wears glasses 
Ilene:  I wear
glasses!
Sarah:  She's a
marathon finisher!
Ilene:  I'm a marathon
finisher!  
Sarah:  She can see
Russia form her house.
Ilene:  My great
grandparents were from Russia!
Sarah:  Tina Fey does
a great impersonation of her.
Ilene: I love Tina Fey!
Sarah:  She has five
kids
Ilene:  I have three
kids – chose enough!
Sarah:  She endorses
the tea party.
Ilene:  I like to
drink tea!
Sarah:  It's estimated
that Palin got paid $15.85 per word during her three year contact with Fox.
Ilene:  I've made
$15.85 in the past…by the hour, at least.   
Sarah:  She has a
Twitter account!
Ilene:  I have a
Twitter account!
Sarah:  She's a hockey
mom.
Ilene:  I'm a cheer
mom – that's kind of the same thing, right?
Sarah:  She and her
last employer, Fox News, are not renewing their contract.  
Ilene:  I've parted
ways with employers before too (it's like we're soul sisters!).
After I saw these similarities, I felt much closer to Sarah than
I ever had before.  Sometimes, it's just a
matter of getting things down on paper, right?
Oh, and as far as us being look-alikes when we wear our
glasses?  I really don't think so, but I'll
let you decide.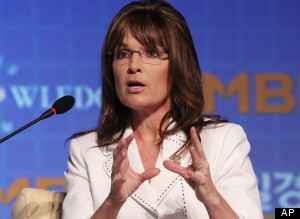 Who's your
celebrity double????
Where else to
find me: