"Mom, if I ate 50 hot dogs, how much would I poop?"
"Dude, can we talk about this later?"
"It would be like fifty times the poop I make now, right?"
"Stop," I mutter.  I
eye Dr. S. apologetically as she works on Dolly.
"It's ok," she says. 
I have boys.
She kneads the dog's belly.
"It might be intestinal. I'm going to take some x-rays." Dr.
S. whisks the tiny shih tzu out of the exam room and down the hallway. 
The dude and the two girls spill into the waiting area and
run around in circles. 
"Guys we can't do that here."
They stop and wander to the reception desk and fiddle with
the Happy Easter banner taped to the front. S. tugs at the center and rips it
down the middle. 
"What just happened?"
"It was an accident Mommy."
"I'll fix it," Miss F. offers.  "I'll get some tape."
I look at all three of them and speak slowly.  "We are done touching things."
Yet, as I'm speaking, the dude grabs a paper Easter basket
that sits on a magazine table and squeezes it until it collapses. 
I grab it out of his hand.
"Sorry," he says.
I glare at him.
"Sit down now or you will never play Wii again.  Ever."
Dr. S. reappears with Dolly and hands her to me. 
"I can't get a clear picture on where the blood is coming
from.  You're going to have to take her
for an ultrasound."
There is more blood than there was before, both on the dog
and Dr. S.
"She might need a transfusion.  I'll call over to the hospital."  
The kids gather around me as Dr. S. contacts the high tech
veterinary clinic one town over.
"What's wrong with her?" S. asks.
"We're not sure yet, baby."
They follow me to the seats by the window and comfort Dolly,
who's visibly shaking. 
As they scratch her chin and stroke her head, I remind myself
that these are good kids. 
They're scared, and sometimes it's easier to say silly words
or run around in circles than deal with the scared.  Sometimes, it's easier to rip up Easter
decorations instead of dealing with what makes us afraid. 
Sometimes, it's easier to be pretend-stoic and be hard on
your kids than admit to how freaked out you were coming home to a dog covered
in blood, lying in the middle of your kitchen. 
 
I had a hard time holding it together when I found that dog. How could I expect my kids to?
I've seen it all with these foster dogs. They come to us sick,
skinny, beaten. Some hide under tables. 
Some hoard food. 
All of them are scared.
Yet, with some love from us, they learn to be a little
less afraid.
Love goes
a long way. It goes a lot farther than
fear any day.
xo
Editor's note: Dolly
is doing great and was adopted over the weekend!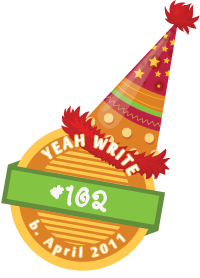 Where to find me: