It's time to mingle again! 
I feel compelled to serve something healthy in honor of Maribel.  Green smoothie anyone?
It's difficult to categorize Maribel's blog in a word or two except to say that much of what she writes about revolves around making positive change.  And who can't use a little of that?  Maribel writes about healthy eating, positive living, and about broadening our mindsets every way possible.  Maribel's blog offers great health, fitness and eating tips while at the same time, she shares her personal journey with us.  The anecdotes she shares include but are not limited to eating, body image, career , and culture.    
I can't gush about Maribel enough.  Trust me when I tell you that she is a gem.  Beautiful, thoughtful, wise and insightful, she is definitely someone you'll be glad to meet.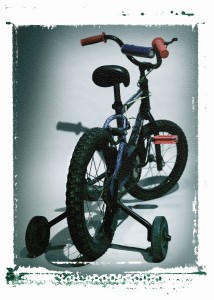 "Remember to always look up!" he said cheerily.
Sure, that's easy for you to say, I thought angrily.
I took a deep breath, pushed off on my right foot and fought for balance. I couldn't get my eyes off the ground for more than a couple of seconds.
This is impossible.  I'm going to fall and look like an idiot. 
I managed to get my foot on the pedals, push off, and maintain my balance. Then came the hard part: keeping my eyes up.
This is…..pretty awesome! I thought. What was I so scared of?
That question resonates weeks later as I think back on that moment of fearlessness and joy after spending two hours learning how to ride a bicycle. Yes, I'm twenty-nine years old and never learned how to ride a bike. Feel free to gawk and chuckle. I've heard it all before, trust me.
After several failed attempts at learning in my early twenties, including one traumatic ordeal that ended with my hitting a curb at full speed and flying off the bike in front of dozens of people, narrowly missing a lamppost but losing all of my dignity, I had given up on bicycles completely.
I suppose you could say this is a classic metaphor for life. I fell. It hurt. I turned away from the source of that pain. I refused to try it again for years until the day I decided to overcome my fear and get back on the saddle. If at first you don't succeed, try try again. Right?
Well, sure, I suppose it is that kind of story at first sight. But that's not what resonates when I think back on that sunny Saturday morning last month while riding that bike in small circles over and over again.
I looked up.
For one moment in my life, I found myself in a terrifying situation and chose to lift my eyes and stare straight ahead. Forget the logistics of keeping myself balanced on two wheels for a second and consider the impact of that statement:
I looked up.
It wasn't until after this momentous day that I realized how much time I spend each day looking down. My eyes barely make it off the ground as I take my walks, stand in lines, take the bus, or wait for an elevator. I see more of the floor then I do people or buildings.
I refuse to make eye contact with others and I force my eyes downward so often, it's practically a reflex. Much like my unstoppable urge to say "I'm sorry" every five minutes for absolutely no reason, I look down in deference to no one in particular.
I think some part of me equated looking up as an act of audacious pride. It's almost too bold to let your eyes connect with your surroundings in such a direct way. To be comfortable enough to look and hold a gaze is something I never felt capable of doing, let alone attempting.
I could avoid drawing attention to myself which was optimal because I didn't think I deserved much of it anyway. I hadn't accomplished anything major in my career or personal life and I felt like such a constant disappointment, that I didn't see any reason to take my eyes off the ground. What did I have to be proud of? Why should I walk with my head up when I have nothing to show for it?
So I kept my eyes down. It's much safer that way, I thought.
As I listened to the instructor remind us of the exercises we'd practiced for the better part of an hour, I kept fumbling on the pedals and looking at my feet and the scary cracks on the ground that would surely cause a terrible fall landing me in the hospital. Nevermind the crushing embarrassment.
Fear and all of his friends starting crashing on my party until I finally decided to listen to the teacher and force my eyes up.
And just like that, the fear dissolved. The wind picked up along with my pace and I felt like I was flying. Completely free and fearless for the first time in a very long time. It was joy. Pure undiluted joy coursing through my veins and into my heart.
I asked myself, what was so I so scared of? Is this what children feel when they learn how to swim or ride a bike? Or is this different because I've had all these years to sit and stew in fear?
Does it really matter?
What I took away from that incredible experience wasn't the importance of persistence to overcome my insecurities or how to ride a bike. Or at least, it wasn't just that.
I learned how something as simple as looking up can open your eyes to your inner strength and give you the confidence to project that to the world around you. You can see the path ahead of you and walk towards it with excitement instead of trepidation. You embrace who you are fully and become eager to share that person without fear of reprieve or criticism.
You stop thinking and start living. 

I have yet to get back on a bike since that day. In some ways, though, I'm fighting for that balance each day. I stumble sometimes and allow my insecurities to throw me off track. But every now and then I remember to look up and I feel that sensation of fearlessness. Just like riding a bike.
My name is Maribel and Food4ThoughtNYC is a space where ideas about food, nutrition, wellness and all the things in between can be shared and exchanged. I'm a New Yorker through and through. I walk fast, I talk faster, and I'm quick to judge on first impressions. That said, I'm always striving to broaden my horizons through travel, food, and dialogue. I love to explore and to challenge myself to see new places and get out of my urban comfort zone. What I love even more is studying how people relate to their food culture and what role nutrition plays in the lives of others. I'm on a journey to find out what moves people to eat, how cultures shape our relationships with food, and what we can do to improve the health of our communities. I share my stories of ups and downs as I embrace ways to achieve optimal living and happiness in the middle of the most chaotic city on Earth. 
Where to find Maribel: