We're mingling again! This time, Adrienne is here!  Adrienne was one of my early friends in the blog world, who I believe I met through Shell's Pour Your Heart Out weekly link up.  There's nothing like eating chocolate when we pour our hearts out to friends, in real life or virtual (is there a difference, though?  My blog friends are my real friends), or drinking coffee or wine.  So, that's what I'm serving up today in honor of Adrienne.  I love this woman.  She is kind, wise, and has a strong and admirable faith.  I learn so much from her every time I read her writing.  Including today….
"That's it! End of conversation!" 
Growing up I can remember being driven to tears of frustration and anger from feeling like I wasn't being heard.
"It's my way or the highway!"
I used to get so angry knowing that my opinion didn't matter. That no matter what the opinion was, I rarely, if ever, got the chance to have it.
"If you don't like it, there's the door!"
Now I'm a parent and I often catch myself saying some of the same things to my children that my parents used to say to me. And while I know that's the natural order of things, I also know it doesn't have to be.
I don't like seeing myself in a light I never liked about my own parents.
There's a part of me that has to have the last word and win every argument.
There's a part of me that hates to be wrong.
I have a prideful heart and let my defenses get in the way of understanding the ones I love the most.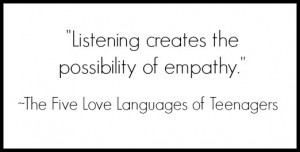 But, I want my children to know that they are heard. I don't have to agree with them. I don't even have to like what they say, but I believe that I should listen.
When I slow down and really listen, it changes everything.
Taking the time to listen can change the tone and mood of a heated discussion.
A listening ear can turn an argument into an understanding.
A calm heart that slows down long enough to listen lets my kids know that I love them even if they are wrong.
The time it takes to listen can feel like an eternity. After all, I just want to move on. I am the parent. They should listen to me.
Then I realize that's not the kind of parent I want be.
When I take the time to listen, I'm forced to calm down, and take a deep breath. In that moment, my children know they matter.
I want to put my parenting pride aside and try to see the world from where they are. They lack experience, knowledge, and understanding of this world.
But, how can we ever expect our children to figure it out if we don't provide the tools necessary to work through conflict and reasoning.
How can we expect our kids to take on the world, when they can't even catch a breath in their own home?
I remember how awful it felt to be stifled, and I want to do things differently.
Just because we take the time to listen doesn't mean we lose authority, it simply means we gain understanding.
We may take that understanding and still have the same parenting convictions and land at the same result we would have had we not empathized with our children, but the result within their hearts will be different.
The difference is at least they know we cared enough to let them talk it out.
How do you handle conflict in your home? Is it hard for you to slow down and listen sometimes?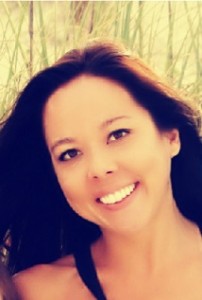 Adrienne is a homeschooling mother of two and blogger at www.themommymess.com, where she writes about the mess of motherhood with an honest voice and open heart! Find her as @TheMommyMess on Twitter and be sure to connect with her on Facebook.