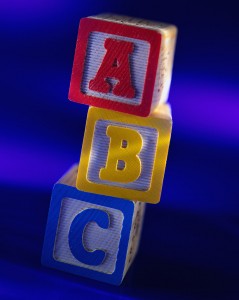 We bloggers know how to have a good time.  Really, we do!  For the past few weeks, we have been tagging one another in a blogging game, where we are prompted answer the following questions, that cleverly, follow the letters of the alphabet.  This prompt was originated by Elaine, and last week, I was tagged by Kim, Christine, and Christine to play along.
I was thinking about writing this post three different times, once for each tag, but I'll spare you the agony!   Here we go:
A.  Attached or single? – Single…unless today's the day JT finally comes around
B.  Best friend? – Many.  Grateful for them all.
C.  Cake or pie? –  Neither.  If I'm going to do the sugar thing, it will be for ice cream.
D.  Day of choice? – Any day where I start it with a good night's sleep and a strong cup of coffee is a candidate for this!
E.  Essential item? – Coffee
F.  Favorite color? – Green – all shades
G.  Gummie bears or worms? – Neither – unless you count the gummie vitamins I sometimes steal from my kids.
H.  Hometown? – Long Branch, New Jersey, and lucky enough to grow up a half mile from the beach.  I was a Jersey shore girl before there even was such a thing!
I. Favorite indulgence? – It would be a toss-up between a pedicure, a Grande Soy Misto from Starbucks, or lying in bed with my laptop.
J.  January or July? – July
K.  Kids? – Three…unless there are more I'm unaware of!
L.  Life isn't complete without?  – coffee (That's the fourth time in 11 questions so far that I've mentioned coffee.  Hmmm)
M.  Marriage date? – I'm thinking that may be irrelevant.
N.  Number of brothers/sisters? 1 sister
O.  Oranges or apples? – Either
P.  Phobias? – I'm not sure.  Which I guess is a good thing!
Q.  Quote? – Is it tacky to quote myself?  I recently said this in a post I wrote about difficult relationships and it's been on my mind a lot lately.
"There are people who see you for who they think you are, and the people who see you for who you think you are.
 And then, there are the people who see you for who you really are.
 I want those to be my people."
The people who see me for who I am without judgment and love me anyway are those best friends that I was talking about in the second question.  Thank God for you.
R.  Reasons to smile? – Healthy kids, wonderful friends, the understanding that I am responsible for my own happiness.
S.  Season of choice? – Spring
T.  Tag 5 people to tag – I am pretty certain that everyone I know has either written an A – Z post or has been tagged to write one.  So I am at a loss.  If you haven't written one yet and are reading this, consider yourself tagged!
U.  Unknown fact about me? –  This was a challenge, since I tell you guys just about everything!  If you only know me from the blog world, you're probably unaware that I have 4 tattoos, 2 on my upper back and 2 on my lower. Each of them comes with a story.  I may have to blog about those stories one day.
V.  Vegetable? – Butternut squash.  I just had it for dinner over pasta!
W.  Worst habit? Four letter words.  Sometimes, nothing else will get the job done!
X.  X-Ray or ultrasound? – Ultrasounds.  So far, only for my babies, thank goodness.
Y.  Your favorite food?   Pizza.  From Brother's in Red Bank, to be specific.
Z.  Zodiac sign? – I'm a Taurus through and through!
What about you?  Your favorite color, indulgence, day, season? Unknown fact?  Tattoos?  Come on!  Spill it!