I can't think of any better way to welcome today's guest of honor than to serve wine and lots of it.  And Nachos.  For, those are the refreshments Alexa and I bonded over at Bloggy Boot Camp in Charlotte last month. One of the best parts of attending BBC was getting to meet so many wonderful bloggers in real life, and Alexa is just as delightful in person as she is on her blog No Holding Back. I can really relate to the story she tells below.  Can you?  
I have not been a good friend the past few years.
Self absorbed and mired in the fog that nearly drowned me after I lost one of my infant twin daughters, I have barely been able to keep clean underwear on myself and my kids, let alone take care of anyone outside of my home.
However, the air is starting to clear, I am rebounding and starting to feel as if I have a semblance of a handle life with three kids ages 6, 3, and 18 months. As the fog clears out, I'm realizing that I have failed my loved ones miserably over the past two years.
It took a week as a volunteer at Vacation Bible School for me to see this.
I had the joy of being the traveling story teller to the preschool classes. Each day I traveled around and visited the toddler room and two each of three year old and four year old classes.
I read them stories out of the Bible.  Some were so complex that my partner story teller and I resorted to acting out simplified versions with puppets. This turned out a little bizarre one day as we told the story of the Good Samaritan and my partner beat one of the puppets with a stick, causing some of the children to cry!! But overall, the children enjoyed story time.
We sang songs, we learned key scriptures and "friendship phrases," and we learned the big picture message.
An overall theme of the week that was so simple.
Be a good neighbor.  To all people.
Near, far, of different cultures, of different races and religions, of different political backgrounds, and even, as I explained to the kids, even to people who might take your toys and not share.
The Golden Rule.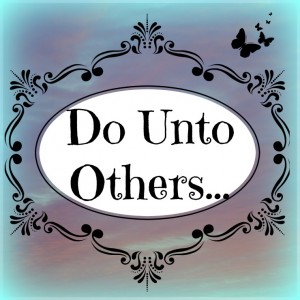 Do unto others as you would have them do unto you.
Whoa. This message was not new to me, but this might be the first week that I really thought about what that meant and if I lived up to it.
So simple, yet so often abused.
It is taught to us from the time we are two years old in our very first Vacation Bible School, yet it so hard to follow.
Especially when we are burdened by our own pains, our own losses, our own needs.
As I told the stories to the children and thought about the daily messages ("God loves a cheerful giver!" "God wants us to love all people!" "God wants us to be bold by doing the right thing even when it's not the popular choice!" and so forth) I realized that I was falling very short of the "simple" lessons we were trying to pass along to the children.
I'm not going to be completely Debby Downer. I like to think I am a cheerful giver. I love philanthropy and supporting worthy causes and giving to those who have less. I love connecting with other like minded philanthropists, such as Jennifer at Another Jennifer and taking care of those who are less fortunate.
However, as I listened to our Pastor speak of the Golden Rule Rule – Do Unto Others as we would Have them Do Unto Us – I realized so clearly that I have been draining time, love, energy, and gifts from those around me without returning it in equal shares.
I try to give of myself by being a positive resource to those who have lost babies and children as well as to those who have struggled through Twin to Twin Transfusion Syndrome (TTTS).  I hope to help people understand the grief of losing an infant, and how to respond to them.
I give of my time and energy to pour over the blogs of my blogging buddies and support them in their endeavors.
But I have not called any of my friends in months. I have not read my friends' personal blogs. I have not sent cards, asked them how they are doing, done a random act of kindness for friends or family members.
Yet, these are the things that I expect from them.
I want to be the kind of friend, spouse, mother, neighbor that I would like to have in return.
I want to treat people the way that I expect to be treated.
The good news is that it's never too late to start!
Are you a good neighbor?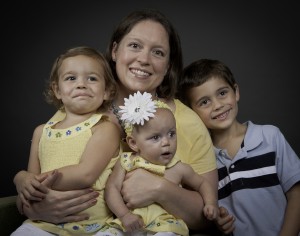 ~Alexa B. is the mother of four beautiful children, three on earth and one in Heaven.  She blogs under the name Kat Biggie at "No Holding Back" primarily focused on finding joy after grief of the loss of one of her twins, but also about raising three small children as a Stay at Home Mom.  A major focus is on bringing more awareness to TTTS, and providing hope to other grieving mothers.  She can also be followed on Facebook and Twitter (@katbiggie)