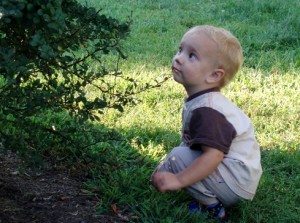 He wasn't supposed to have been born that day.  His due date was in January, and he therefore had no business arriving in early November.  The birth didn't come as a surprise.  I had been on hospital bed rest for ten days after being rushed to the labor and delivery floor when my water broke at 29 weeks.  I had already beaten the "statistics" and had managed to stay pregnant those extra ten days, meaning my son would only be 9 weeks early versus 11.  Those two weeks were a huge bonus.  Yet, I still didn't feel ready to deliver a baby – because babies aren't ready to be born when they're 31 weeks in utero.
At three pounds, six ounces, he was bigger than most 31 week preemies, yet, there were complications. For the first seven days of his life, I held my breath in uncertainty.
I spent as much time as I could in the NICU.  Yet, as much as I was physically present, emotionally, I felt an odd detachment from not only the situation, but from him.
I was so scared that my son was going to die, that I was afraid to love him, for my fear of losing him, and believing that the pain of potentially losing him would be too great for me to bear.
The thought of losing my son was a pain so unthinkable, that I tried to build a wall around my heart to protect myself.  I rationalized that if I never allowed myself to love him, losing him wouldn't hurt quite as much.  At least, that was my thought process at the time.
My resistance didn't last long.  I remember one morning, getting ready to drive to the NICU, and catching myself in my "lie."  When it dawned on me what I had been doing, I sunk onto my bed and cried.  I cried out of love and I cried out of fear and I cried out of being ashamed at my behavior.  My son needed my love more than I needed to protect myself.
Many of us build walls out of fear. Maybe we've been hurt before by something or someone and we vow that this place of hurt is a place where we never want to return.  Yet, the problem with the wall is that the wall keeps out "the good" as much as it keeps out "the bad."
With every wall comes a lie.
I can't handle this.
That doesn't matter to me anyway.    
I will never allow myself to feel that way again.
Getting attached means getting hurt.
I can't trust anyone.
…and the list goes on.  Maybe one of these lies looks familiar to you, or maybe you have a lie of your own.    
The problem with the walls and the lies that result from the walls is that we wind up resisting our feelings.  In turn, we resist and betray ourselves, and we don't live life fully.
Not loving the hell out of my baby every day that he was in the NICU was not living my life fully.
Last week, when I spent more time resisting difficult emotions versus feeling them, dealing with them, and letting them go, I was not living my life fully.  Furthermore, it took more energy for me to resist the feelings than it would have to embrace them and to accept them and to make my peace.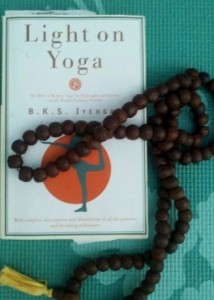 Some people believe that "yogis" are able to face any situation with a lesser degree of emotion, that we're "neutral." This is simply not true.  Yoga is about staying present and aware.   Ideally, in this awareness,   I would be able to identify and face feelings as they come and let them go.  That's what being present is about, not holding onto the past, and not projecting into the future.
We can honor the past and respect what we have learned and who we have become from our past, but we don't have to live there.
We can plan for and work for a beautiful future, noting the mistakes we have once made and trying not to make the same mistakes again, but we have the freedom to do this in positivity.
Just because something bad happened once doesn't mean something bad is going to happen again.
Trusting the outcome can be as painstakingly difficult as tearing down a wall, both literally and figuratively.
When  the dismantling of those bricks gets difficult, I try to remind myself, that the light gets in much more readily through open spaces.
###
This post is dedicated to the awesome-in-every-way Alexa from No Holding Back as was inspired by her recent post, Change, the Only Constant. This post, and so much of what Alexa writes reminds me to face life, with all of its joys, triumphs, fears, and tragedy, with an open mind and heart.