Yes! We're mingling again!  This time, with AnnMarie from Tidbits from the Queen of Chaos.  I just love AnnMarie and while I can't remember exactly how we ran into each other in this vast blogosphere, once I found her, I decided to stick as close as possible to this funny, wise, warm hearted woman.   AnnMarie just had a birthday, by the way. Who wants cake???
A little over a week ago, I turned 43. When I was in my 30's, I dreaded my 40's. I had a whole list of things I was going to do before I was 40.
*Topping the list was publishing a book
*Have all my kids two years apart so that they would be close in age.
*Travel all over with my family
*Live in my dream house
*Finally learn to be organized
That was my plan but as the mom of a teen, twin tweens and a toddler, none of those have happened yet (all but the having kids close in age still could) and for once, I am okay with that. See, my 30's sucked. I was dealt a lot that was never in my plan. It took turning 43 to finally realize that things are going to happen in life that I have no control over. I can only control how I let them affect me.
I've learned a few other things since turning 43.
*Being 43 means I am still young enough to make a career change. I still have the desire to learn. I want to go back to school in the worst way and though it might not be in the cards right now, that doesn't mean it won't ever happen. Maybe I've finally learned patience. Maybe I'll end up being a counselor. Maybe I'll end up in a career where I get paid to write. Maybe I'll go back to teaching. I don't have to look behind and say, "I should have". I can look forward and say, "I might still".
*Being 43 still feels like I have the world at my finger-tips. I've done things in the last year that I never thought I would. I am actually writing for an audience. So I might never publish a book, or I might. Who knows? I just know that my success in life is no longer determined by the things I have yet to accomplish but it is determined by what I have already accomplished. How lucky am I that three dreams I had in life have come true? I was a teacher (maybe someday, I will be again), I am a wife and I am a mother. At the end of the night when I hear the five other people in this house say, "Good night. I love you," that feels pretty amazing (and not just because it means they are going to bed).
*It's taken me 43 years but I FINALLY look at exercise as a blessing. I exercise not to be skinny but because I am still able to (and if I get fit in the meantime, then all the better). Let's face it, the older we get, the more the bones start to ache and muscles stop moving the way we want and now I look at it like as long as I can still move without pain, I'm going to take advantage of it.
*One of my favorite parts of being 43 is that I now have the ability to say, "No" if I don't want to do something. The best part…I no longer feel guilty. Life is too short to do things that make you unhappy.
*Being 43 means not engaging in arguments because I need to be right. I can listen to someone's opinion and disagree with them but say, "Hmm…that is interesting," and still walk away feeling confident in my beliefs whether it be religion, politics or raising children. I live by the phrase, "Everyone does what they feel is best for themselves. Who am I to say it's wrong if it is working for them?"
*Being 43 means not putting up with relationships that aren't 50/50. It's the life is too short thing again. Why give of myself to someone that isn't willing to give back the same amount? Is it painful? Absolutely. But with age, I realize that time is precious and spending it on someone that isn't willing to expend the same amount of effort is a waste of it. Wasted time leads to regrets and who wants to live a life of regrets?
*Being 43 means knowing what makes me happy and not being afraid to ask for it. This is a big one. No more mind-reading. No more guessing. No more being bitter because people don't know. I am finally taking my own happiness in my own hands. Being 43 means finally knowing myself well enough to know what I need and what I don't.
I don't know if there is any truth to the saying "40 is the new 30". I do know that 43 feels a lot better than 33. I've decided I am no longer going to hate my birthday. I am going to celebrate it. Each year, I'll celebrate that I am still a work in progress and remember the ways I learned and grew from the year before. If you read my blog, you know that there is no doubt that life with all the craziness will give me plenty of opportunities to do both.
Being 43 means embracing the chaos. If it is going to be chaotic, I might as well be the Queen, right?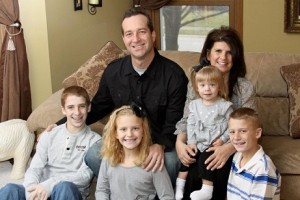 I am a stay at home mom of a teen, twin tweens and a toddler married to my college sweetheart. Things you'll find in my blog: A LOT about parenthood, A LOT about marriage, some about infertility, some about Cystic Fibrosis (the boys battle it), some about having to bury our baby, Rocco. I write what is on my mind and about the chaos that is life with four kids and a husband that can't sit still for longer than ten minutes.