This week has been one big blogging high for me, from sharing my "happy," to hanging out with Tamara, to today, hosting another one of my favorites, Kim, from Co-Pilot Mom. 
I love Kim's slice of life anecdotes and the gentle reminders they give me to enjoy every moment of this beautiful, crazy, unpredictable ride of parenthood.  I love how Kim is not afraid to try new things, such as running.  I love her passion for life.  I love her photographs.  I imagine if Kim and I met for lunch, there would be a lot of smiling and laughing and nodding in understanding.  Kim always leaves us on a high note, which is one of the many things I adore about her.   
In honor of Kim, we're serving up coffee and chocolate.  Any objections?
###
 "I just want to go home, Mommy."
I heard the words in the dark tent as I shifted to get comfortable on the air mattress. His voice quivered as he spoke; he was crying.
It was a sticky Friday night – late.
It was our first camping trip of the summer; our first night tenting in the wooded campsite that would be our home away from home for the next two days. Captain Bravo has always been an excellent camper, but it had been 11 months since our last overnight adventure.
"Don't cry," I soothed. "We're all here together. The first night in a new place is hard."
It had been an exciting day. We had packed the car and set off. Captain Bravo had loved driving to the campground, setting up the tent, our supper at the picnic table and s'mores by the fire.
But now it was time to sleep. And the tent was not his room.
"I want my room. I want my bed."
I am not much of a decorator – never have been.
As much as I love to look at a beautiful room or leaf through a design magazine, I just don't have a knack for it.
Given the amount of HGTV I watched when I was up with Captain Bravo in the middle of the night, one would think that I might have assimilated some tiny creative spark. But design remains a mystery to me.
Captain Bravo's bedroom has always been a room in our house that I have felt needed more pizzazz. It is simply decorated with a few pictures, a Mario poster, his dresser and a bookshelf. It's not overly colouful or super-personal. The walls are a mushroom beige colour that clashes somewhat with the grey sports-themed bedspread and throw pillows.
I have thought about jazzing the space up for him, but have never gotten around to it. I am limited on both budget and ideas and there always seems to be some other project, some other mountain (of laundry) that needs climbing.
I have always thought of his bedroom as unfinished – and quite un-cozy.
Until that moment, that is.
Lying there in the dark on that stuffy night, I held his hand. I realized that he didn't care that his bedspread didn't match his wall colour, or that his decor wasn't Pinterest-worthy.
He wanted his familiar walls, the warmth of his bed and the security of his home. He wanted the place where he plays I-Spy and flips through picture books. He was missing the soft pillows and the hum of his ceiling fan.
He doesn't see the sparse. Or notice the clash. He feels the cozy.
He loves his home. I should love it more, too – even if it not magazine-ready.
While my life experiences do not include design training, I am still open to learning. And though I left school years ago, every day I am thankful that my children have so much to teach me.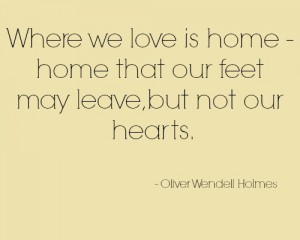 Kim is an early childhood educator-turned stay at home mom. She is
co-piloting two young Captains in Nova Scotia, Canada, until they are
flying on their own. She always tries to see the glass as half-full, even
if it spills. She can usually be found near the coffee or chocolate.
How to find Kim:
On her blog: http://www.copilotmom.com
Twitter: http://twitter.com/copilotmom
Facebook: http://www.facebook.com/copilotmom
Pinterest: http://pinterest.com/copilotmom
Instagram: http://instagram.com/copilotmom