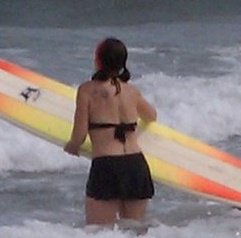 Do you know when you have big news to announce or you've just begun a new endeavor and people can't be happy for you?  Like that time you decided to go back to school, start a business, or take up surfing?
Doesn't that stink?
Naysayers.  We all have them in our lives, and it's often someone close to us, either a friend or a spouse or a family member who shows little, if no support for something in that matters to us.
Even worse, sometimes these people seem completely against what we're doing.
Today, I'm talking about how I handle naysayers over at No Holding Back.
I had the honor of meeting Alexa of No Holding Back at Bloggy Boot Camp in Charlotte back in May.  She's warm and wonderful and fun and funny and I love her website.  Alexa made it her mission to educate the world about Twin to Twin Transfusion Syndrome (TTTS) after losing a child to this fatal condition. She's also an advocate of newborn health, an avid "pinner," a fiction writer, and a hugely supportive friend.
Come join me over at Alexa's place?