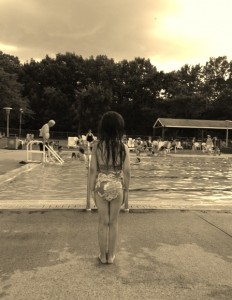 A five year old daughter who refused to put on a bathing suit.
A scar caused by a horrific accident that was preventing her from going out and enjoying her summer.
What's a mother to do?
Scars,  we all have them, some physical, some emotional, some both.
Are you living life to its fullest?
Or are you too busy dwelling on your scars to do so?
This is what I'm talking about today over at Tamara's blog.
My world collided with Tamara's some time in the early part of the year.  And while we're new-ish friends through the blog world,  I feel like I've known her forever. She's a kindred spirit.  Maybe it's her open mind, or her open heart, or her beauty, inside and out, or her gorgeous photos, or the stories that just draw me in, whatever it is, Tamara has "that something" that makes me love having her around.   Plus, her blog has quickly become a hands down favorite of mine. There's magic in Tamara's writing.  As if I can see the pixie dust float around her page when I visit.
I'm so honored to be on her page today. Join me there?