Maybe it was the parking ticket or the broken windshield or maybe it was the fact that my mother's house, where I'm staying, had no internet or maybe it was the fact that I was under the same roof as my mother to begin with, but by Sunday, I started to lose my Namaste-ness.
OK, let's be honest.   The Namaste-ness began to slip away weeks ago, the tension of having to be out of my house by closing time on Friday (which I made with an hour to spare) or the mounting conflict of dealing with the naysayers in my life, whom I've now blogged about ad nauseum, or the fact that I had to give up a lucrative order given to my baking business due to the fact that I couldn't get the recipe to regulate to the oven I was left to work with after my move.
(Not to mention, that order could have paid for my windshield and parking ticket combined.  Hpmf.)
All of the above has made me whiny.   And not at all Fierce Diva like.   If you must know, I've been whining to anyone who'd listen.
Just Friday, I sent this tweet out to Tamara.

And no, I wasn't trying to be funny.  I was bitchin' to her all right!
As a matter of fact, I sent the same request for wine and wifi in a text to Chris the next day.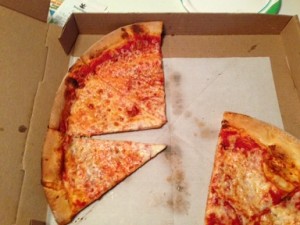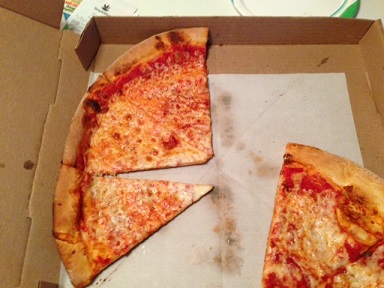 Even La Scala's pizza couldn't bring my Namaste-ness back.
But getting Wifi did.
In particular, it was reading this post written by Allie about speed drills that put the biggest smile on my face in days.   Allie rocks in the biggest way possible.  She's a dedicated fitness enthusiast and a huge running devotee.   In her post from last Thursday, If You Want to Run Faster, Allie wrote about how speed drills shaved 27 minutes off of her qualifying time for the Boston Marathon.
Did you hear me, people?  27 minutes!  That's basically knocking off one minute per mile of your time when you're running a 26.2.  Guys, that's badass.
And as impressive as that fact was, the sentence in her post which almost overshadowed that astounding fact was, "I love running the way Anthony Weiner loves phone sex," because between the badass time and that hilarious line, not only did I realize that this woman was a running goddess, but that she and I also have the same sense of humor (oh my gosh, Allie, I really wish I had thought of that one first!).
What I loved most about Allie's post – even more than the line about Anthony Weiner, if that's possible, is that the post centered around Allie doing things that were uncomfortable for her to do in order to net the results she wanted.  It reminded me of how much more open we can be to positive changes and progress in our lives when we can become comfortable with being uncomfortable.
That's how we grow, people.  As a matter of fact, it's the only way to grow.
I've been a runner for two decades, and I've never been fast.  As a matter of fact, at some point, I gave myself permission to not be fast because speed doesn't come naturally for me, and I guess I never wanted to work at it.
After reading Allie's post, I thought to myself, maybe I can be fast, or at the least, maybe I can be faster than I am right now.
I decided to work on my speed, even though my speed is pretty slow by most standards, but maybe that's not a reason to give up trying.
So Sunday afternoon, I threw on my Mizunos and put my hair back in a ponytail, and found the stopwatch on my phone, and I ran speed drills.  I sprinted in two minute intervals a total of five times, with recovery periods in between.   I ran until I felt the burn in my quads and the fire in my lungs.  I ran as hard as I could.  Even if my version of fast wasn't very fast, I tried the very best I could.
I challenged myself in a new way.
It's easy to do the things we're good at, but it's not so easy to do the things we're not good at.
I want to do the things I'm not good at more and not be afraid.  Because when we put ourselves out there, we change.  We change in the very best of ways.    I don't know about you, but I still have a lot of changing I can do.
Thank you, Allie.
And thank you Anthony Weiner.  For what? I don't know.  But I had to get one more AW reference in here somewhere.  🙂
~Namaste