It's time to mingle again, guys!  Today, with Kerry Rivera from Breadwinning Mamma.   I'm not exactly sure how I found Kerry, but I can tell you that from my first read, I was hooked on her blog.  Kerry juggles a home and a family with a demanding career, and as she puts it, she writes about the "joys and chaos of juggling a fast-paced corporate career and the messy, but wonderful milestones of motherhood."  I love the honest conversations Kerry invites about balancing work and life and work and motherhood, along with her awesome book reviews and her journaling of the challenges and loves of parenting.  Kerry shares great information, asks questions, and invites dialogue with her readers. 
When Kerry told me a few months ago that she wanted to try yoga, of course, I was thrilled to pieces.  I mean, you'll never hear me try to talk someone out of taking a yoga class!
I was so happy when Kerry reported back to me that it was a positive experience for her and that she wanted to keep practicing. I am very pleased to have Kerry share her experience as a yoga newbie here today.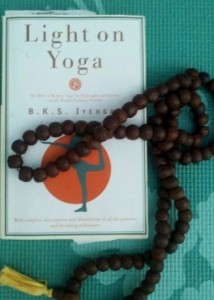 "Accept where you are today, in this moment, and be grateful."
 As I finished my first yoga class, these were the words the teacher shared before the final Namaste.
It would be so easy to look around and negatively compare myself to the studio of graceful students. I can't touch my toes, my body feels awkward, and my balance is questionable at times. Right next to me, the woman outstretches beautifully into warrior 3 – not a hair out of place, no wobbles, no slips.
Me? Well, let's just say you can tell I'm a rookie, and that makes me a little uncomfortable.
I've always led an active life. From the youngest age, I loved to run and play outdoors, and my parents signed me up for all sorts of sports and activities in a quest to help me discover my passion.
It didn't take long for coaches and spectators to realize my competitive spirit. While I was skinny and a bit gangly in those early years, I feared no one. My sharp elbows gave me an edge on the soccer field – when the ref wasn't looking – and my quick strides helped me outpace the other team.
For years, I trained to be the best. I played soccer in high school and college, and often heard the message that I needed to be faster, fitter, more aggressive.
Shortly after I graduated college, I hung up the cleats in favor of running trails and weight workouts at the gym. And to be honest, my daily hour of exercise became a religion – something I do just for me to release the stress and unleash the endorphins.
But over the past few months, I've had a yearning to try something new. While I certainly envied the svelte yoga body and the cute clothes, I never envisioned yoga giving me the workout I felt I needed.
Secretly, I also thought I would be terrible at it given my lack of flexibility and runner's hamstrings. With my competitive spirit, trying something that I thought I would suck at just bruised my ego.
Still, over the past several months, external stresses have weighed on me. With three young kids, a long commute and work deadlines, I could tell my body and mind were running on fumes, so I figured why not. Let's try yoga – tight hamstrings and all. What's the worst that could happen?
It's been a month now since that first class, and I can tell you I'm officially hooked. I've tried out several different types of classes, instructors and levels. I'm sore in places I've never felt sore, and slowly the hamstrings are loosening. I love how the teachers I've come to know are kind and so knowledgable about the body. They are pushing me, but in a wonderful, peaceful way that makes me appreciate my body – not berate it.
I'm coming to understand why they describe yoga as a practice, a journey, a way of life. I'm still pounding miles on the trails and hitting up the gym, but I've discovered a couple of yoga classes a week to be so good for my body and mind.
On one end it is physically challenging – I have to give these yoga people credit, they are super strong. At the other end, it is bringing something into my life that I need right now – a greater appreciation for the present. My type-A personality is always thinking about tomorrow and what I need to do next, but yoga is balancing that with a sense of being more mindful today and appreciating the moment.
I may never be able to pull my leg over my head, but I think this new facet of my life has come at the perfect time. It is teaching me to be a little kinder, a little gentler and much more grateful. My personality needs this more than an ultra-aggressive sport.
I suppose the moral of the story is that I needed a little change. I needed to be open to a new challenge and way of thinking. I may look painfully awkward, but I accept and appreciate where I am today. Life is good.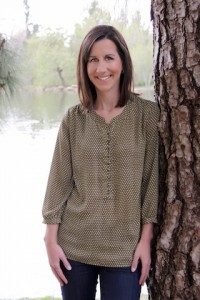 Kerry juggles a full-time marketing job, husband, three young kids, an overly-energetic puppy, and a LONG commute on Southern California's finest freeways. Squeezing in exercise is a must, and she loves to curl up with a good book. As she says, "Life is chaotic, but sweet." You can find her blogging over at Breadwinning Mama and tweeting as @breadwinningmom.