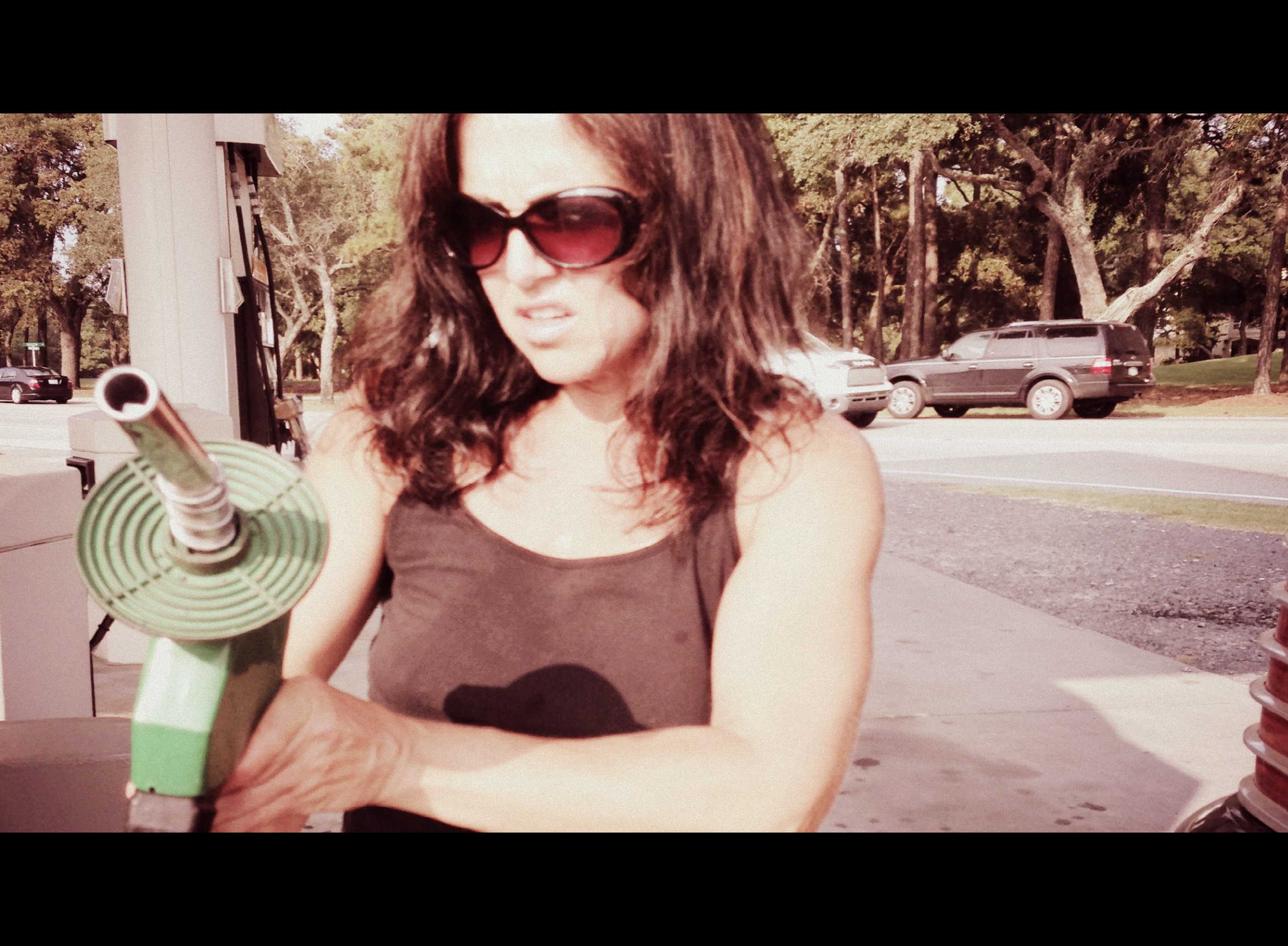 Have you heard?  I'm a southern belle now, y'all.
I've left the land of landfills and urban sprawl for quieter pastures.  For a quiet island, to be specific.
It's a different world down here.  I haven't found a decent slice of pizza since I've ventured below the Mason Dixon line,  but I've seen more gun and ammo shops than Snooki's seen the inside of Seaside Heights motel rooms.
I like island life, yet it means if I need something more than a kayak rental, I have to drive for it.  The only game in town is a Walmart, and by town, I mean the next town.  I'm talking a 9 mile drive, ya'll (I say ya'll now a lot, people).  Back in Jersey, do you know how many stores I could trip over in a 9 miles stretch?  Or pizza places?
I drive to that Walmart a lot.
Which means my car almost always needs gas.
But what's with this pumping your own gas thing?  We don't have to do that back in Jersey.
It's not that we Jersey girls aren't willing to roll up our sleeves and get our hands dirty.   If you've watched The Sopranos, then you know we Jersey girls specialize in dirty.
Plus, a Jersey girl can do anything.  We're smart.  We're sassy.  We're tough.  We're genetically wired to throw down.   Even a yoga practicing, peace advocating, believer in love for all mankind like me can throw down.  It's in my Jersey DNA.
We just don't pump our own gas.
It has nothing to do with not wanting to ruin our manicures.  It's the law people, plain and simple.
Since 1949, there has been a self-service gas ban in the State of New Jersey, enacted to protect consumers and gas station owners from potentially deadly accidents.
My best guess?  These potentially deadly accidents have been linked to the flammability of hair spray.
Because everybody knows that no self-respecting Jersey girl goes anywhere without a big ass can of Aqua Net.
Whatever the origin of the law may be, the bottom line is that this whole pumping gas thing doesn't come naturally to me.
And even though I may not see a proper slice of pizza until Thanksgiving, during my first planned trip back to the great Garden State, I can't wait that long to fill up my tank.
I keep getting it wrong.  I lift the nozzle before swiping my credit card or more than once, I've opted for the wrong grade of gas.  I put the fuel dispenser back crooked or not at all.
Sometimes, I can't dispense the fuel, even when I press the lever.
Sometimes, when the self-serve system has me utterly confused, I fasten my gas cap and drive to a different station.
But I'll keep trying.
I have a Walmart to get to.
I have a new life to adjust to.
If this is my biggest growing pain, I'll take it.
If you were wondering, things are good.  We're finding our way around.  Although a full tank of gas would help with that, for sure.
I could get used to it here.
Although no matter where I live, a piece of my heart will always belong to Cory Booker.
And while I'm not quite as crushy over Chris Christie as I am for the Mayor of Newark, I think the governor and I could have a crazy good time together.
Sharing a pizza, that is.
But make no mistakes, I'd have no trouble throwing him down for the last slice.
Namaste, y'all.