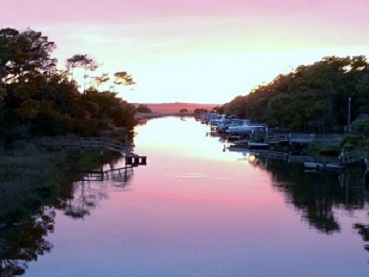 My marriage had been in trouble for years.  It was an inconvenient truth that I had wanted to avoid.   We tried counseling.  We tried talking less and listening more. We tried date nights.  We continued to hit a wall over and over and over, until one morning on an early September day last year.
It hasn't been an easy year.   I doubt that anyone who's gone through a divorce would tell you that the first year was easy.  It was a year where I've counted on friends.  It was a year where I've counted on my therapist.  I was a year where I've counted on yoga.
Yoga was my constant this year, and not only the time spent on my mat.  It was the practice that I maintained off my mat that mattered.   It was that time, spent as the observer, in painfully honest self-inquiry, versus putting all of the blame on the other.  It was trying, in a year full of anger and frustrations, to regulate my temper.  It was during moments that I wanted to cause spite, that I chose to instead, cause no harm, that my practice mattered the most.
Beyond the elaborate arm balances and fancy inversions and Lululemon pants so readily identified with a western yoga practice lies a set of ethical guidelines that a yogi commits to live by.   Cause no harm.  Tell the truth.  Let go of attachments.  Regulate behavior. Perform self-inquiry.    While I have strayed from this code more times than I can count, this code was my True North, and one that I headed back to no matter how many times I wandered.
Thanks to yoga, I stand with my feet rooted into the earth and the crown of my head lifting toward the sky, feeling that toggle between groundedness and elevation, which personifies the duality of yoga, and the dichotomy of a well-worn life. We root ourselves, but not to the extent that we hold ourselves back.  We take flight, but never to the extent that we feel unanchored.
Thanks to yoga, I can look at all of my worldly possessions, which as of right now, fit into one room, and instead of feeling lack, feel abundance.
Thanks to yoga, I face the enormous change I'm embarking on, that holds many unknowns,  with a sense of "this is all going to be OK" that radiates from the core of my  being.
This is a yoga blog.  While I don't give tutorials on postures or sell yoga mats or discuss the physical and emotional benefits of the practice, this blog is the point of view on life from a yoga teacher, and more importantly, from her teacher's teachers.  It's not my perspective as much as it is my interpretation of the perspectives of Pantanjali, Iynegar, Baptiste, Swami Shantimurti  Saraswati, and Swami Satyananda, and many, many others who have taught me how to live.
While I think everyone can benefit from yoga, more than anything, I believe that everyone needs to have a practice that gives them a set of tools for facing life.
Maybe for you, it's yoga, or maybe for you, it's studying the bible, or maybe for you, it's working the 12 steps of Alcoholics Anonymous, or seeing a therapist, or transcendental meditation.  Whatever your practice is my friends, do yourself a favor and go practice.
Life will kick you hard.  Some years, it will hand you a thousand "fuck you's" at once at the most unexpected moment.  Even with a practice, those "fuck you's" will hurt like hell.  But with your practice, you'll be ready. You'll have a belief system you can rely on.  You will have faith.  You will know that no matter what happens, you're strong enough to withstand it.  You will trust that you will never be given more than you can handle.  You will endure.  You will love.  You will forgive others.  You will learn to forgive yourself.
You will rise above.
With your practice, you may even grow to realize that those thousand "fuck you's" really weren't "fuck you's" at all, but just life, giving you a well-timed warning, or the universe watching out for you in a way you didn't understand. With your practice, maybe in time, those "fuck you's" won't look like "fuck you's" at all, because in your heart you will know, that there is only love.
Find your practice, call your guru, call your pastor, call your sponsor, call your friend.  Know that you are never alone.
Find your practice.  Make time for it.  Honor it.  Honor you.
~Namaste
I am on a blogging sabbatical for the next few weeks to give myself time to settle into my new home.  Know that I adore you, am grateful for you, am thinking of you, and that I'll be in touch.  Love to all, light to all.
xo Ilene