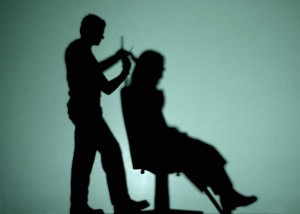 "Cut it to my chin," I say emphatically.
"Are you sure?"  The stylist asks.
"I'm sure."
I sit back in her chair and watch as the hip, youngish woman slowly snips off my long, dark, shoulder skimming layers into a pageboy bob.   She told me her name when I walked into the salon, but I don't remember it at that moment.  Maybe I was too busy checking  my Blackberry, or the time, or thinking of what I had to get done when I got back to work.
The haircut had been an impulsive decision but a necessary one.  Maybe there had been too many layers cut into my hair or maybe it was that I was tired of fighting the August humidity with my blow dryer or maybe it was the fact that I was trying to fight the too many layers and August humidity with my blow dryer with a twenty month old tugging at my skirt and a five year old jumping all over the bed I had actually remembered to make that morning, and a three year old painting the bathroom walls with toothpaste.  Maybe it was all of that and the fact that my Blackberry hadn't stopped beeping since the moment I woke up and I knew there were messages and deadlines waiting for me and that I was late for work once again.
Something had to give, and on that day, it was my hair.
Have you ever had a "Something has to give" moment?
Have you ever had so many of them that you knew something really had to give "or else?"
How were are at listening to yourself when you had it?
Come join me today over at Breadwinning Mamma where I describe my "something has to give moment" and what came of it.
See you there!