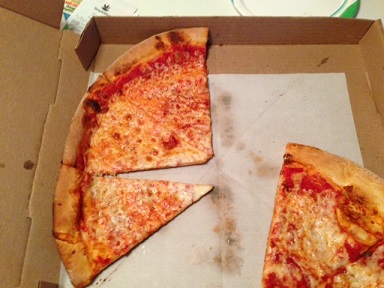 "How's your pizza?"
"It's excellent.  You'll love it."
"No seriously, how's your pizza?"  I lean in a little bit.  "I'm from Jersey," I add, as I toss my unruly hair, still unsure how to behave with its newly acquired southeastern frizz, over my shoulder.  "Pizza's important to me," this last statement delivered with a reverence typically reserved for a discussion about someone's church, or their family, or the Superbowl.
That's how the conversation began when, one night, on our way to Walmart, I noticed a tiny storefront set back from the road with a sign outside advertising pizza.  Since landing in North Carolina, it was the first non-chain pizza place I had laid eyes on and prayed for the best as I pulled into the gravel parking lot.
"Should we try it?"  I asked the kids whose noses were in their Nintendo DS'.
"There's no good pizza in North Carolina," my son answered.  "You said so."
"Well I think we should try it," I say optimistically.  It wasn't a Dominos or Pizza Hut.  It was at least worth some investigation.
"I'm from Jersey too," the woman behind the counter replies.
"You are?"
I want to jump up and hug her.
A woman from New Jersey is going to make my pizza.  New Jersey!  The pizza capital of the country, if you ask me, and the one reason why I almost couldn't stand to part with my home state.  My mouth starts to water.  This is gonna be good, I think to myself.
"We'll take good care of you," she says as she writes down my order.
"They're from Jersey," I say to the kids as I hurry back to the car.  "The people making our pizza are from Jersey!"
"Jersey's in the house!" My kids scream in unison.
We rush to Walmart to run our errands.  As we pass the deli, I turn my nose up at the Take and Bake pizza that's beckoned me on every visit.
As if this Jersey Girl would ever eat a pizza from Walmart.
We race back to the pizza place to pick up the goods.
The ride home was excruciating.
The walk from the car to the house felt endless.
I was so excited for the pizza that I forgot to take my keys out of the door.
I throw plates on the table and take that first, long anticipated bite….
To discover it was awful.  Rubbery cheese.  Tasteless sauce.  Crust with no character whatsoever.
Although I still ate three pieces.
Part of me wanted to call that "woman from Jersey" and say, "You call this pizza?"  But I thought better of it.  It's a small world down here, y'all.  A small world.
The next week, I stood in the deli section of Walmart and tentatively eyed the Take and Bake pizza.  I sighed and threw one into my cart.
It's the best pizza I've found down here to date.
There's something so wrong with that ya'll.  So, so wrong.
But admittedly, I'm a girl willing to sell her soul for a good slice of pizza.
Namate, y'all.