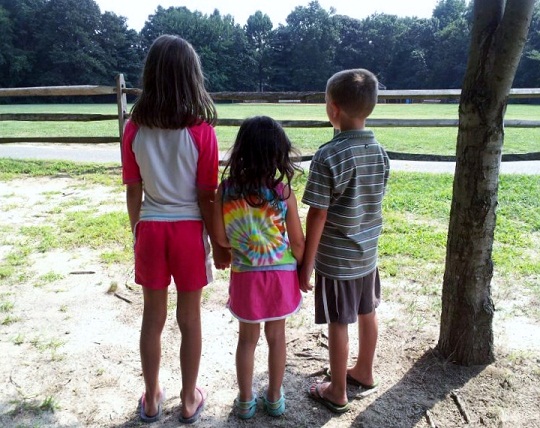 "Are there any Jewish people here?" My mother asks, over her vanilla yogurt and Swiss cheese sandwich.
"I think there are a few in the gated community up the road," I say, clearing dishes off the table.
"Well that's a relief," my mom says.  "How did you hear?"
"The Jews have secret smoke signals down here, Mom, ones that the Klan don't recognize."
"Ilene…" my ex-husband says.  It's the warning call, the one where he tells me to back off.  Just the use of the word Klan is feeding into my mother's fear that I've moved myself and her grandchildren to some back wood, red neck hell hole where crosses burn on lawns on a regular basis.
My mother and my ex recently arrived for the weekend,  weary from their car ride from New Jersey, one hour longer than expected, when my ex's cell phone died somewhere on I-95 soon after crossing into North Carolina, losing the GPS with it. My mother called me from her ten year old dinosaur of a phone in desperate need of directions. They were fine until they got to Wilmingon, where between the spaghetti bowl of highways my well-intended instructions getting lost in translation, they took a few unexpected detours.
I called my mother to check their status not long before they arrived.
"We're on Route 133."
"What are you doing on 133?" I ask.  "I told you to take Route 17. Let me talk to S."
"It's not a good time," Mom says.  I can tell from the tone of her voice that there's been tension. My ex-husband hates getting lost.
When they pull in, I have food ready.
"I have a plate for you," I say to S.
"You made a plate for me?"  He asks.  I hear the subtext in the tone of his voice, the subtlety of it obvious to me, who from first date to separation was with this man for fifteen years. It wasn't well over a year ago that I would have mumbled under my breath for him to make his own dinner.  Throw in an F word or two.
But he was tired and just drove 650 miles to see his children.  Food is the least I can offer.
"This cheese is delicious," my mother says.  Where's it from?
"Walmart."
"I never would have guessed.  They sliced it so nice and thin."
"They'll slice the cheese thin for me at Walmart, Mom…so long as I don't tell them I'm Jewish."
S. looks at me again and rolls his eyes, although I'd swear this time he's holding back a laugh.
"Is…Walmart the only place to shop here?" My mother asks tentatively.
"Unless you drive to Wilmington."
"Do they have real stores in Wilmington?  Like Macy's?"
"Real stores Mom.  It's just like being in New Jersey.  There's Jews there too.  Lots of them."
S. can't hold back the laughter anymore.
I had debated taking off for the weekend and leaving the house to my ex.  I wanted him to have his own space with the kids.
There was also the issue of not knowing how we'd all get along under one roof.  But it was fine.  I would go as far to say it was a good time.   We parented together.    We had family dinners. We argued incessantly over which airport we flew out of to get to Paris for our honeymoon (It was JFK – I'll bet my life on it!).  After I dedicated Sunday afternoon to baking, I told him I'd send him home with a bag of my home made granola.
"Wow, I forgot how good this stuff is," S. says, tossing a handful of it into his mouth.
I look at my ex-husband and think about the past year, not in relevance to him but in relevance to me and the men that I've interacted with since our split.  There haven't been many, but every single one of them has been some sweet talking dude with a jacked up story.  None of them holds a candle to the man I'm divorcing.
Sitting next to this good, decent, honest guy, I can't help but wonder what he'd think of my choices, the bridges I was willing to buy, the red flags I chose to ignore.   I can almost see him shaking his head at me as I'd tell him about this one or that one, the way he's shaken his head at me in the past when I've gone down the wrong road despite his warnings.
This is also the same man I've been in the ring with for years, but he's never once thrown a punch below the belt.  We're completely polarized in our thinking on the "most important issues," but he's not vindictive or manipulative or unkind. Even in divorce.
I'm glad I stayed in town for the weekend. He reminded me what the good guy looks like.
Sometimes, the messages we need to hear come from the most unsuspecting places.
Namaste, ya'll.