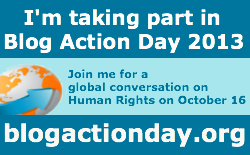 Photo Credit: http://www.blogactionday.org
What if I told you that 26.7 of% of children living in Brunswick County, North Carolina, where I now live, suffer from food insecurity?  What exactly does that mean?  Put bluntly, they do not know where they will find their next meal.
What if I told you that 1 year after Hurricane Sandy devastated my former neighboring town of Union Beach, New Jersey, many residents have still not been able to rebuild, due to lack of insurance funds or FEMA funds or, have left families, in financial ruin, with no option but to walk away from their homes?
What if I told you that when Jennifer attended the Social Good Summit in New York last month, she learned that 900 children die of AIDS every day in Africa?
The statistics above seem unconscionable to me.  How can we let these things happen?
How can I let these things happen?
When I woke up this morning to Jen's post about Blog Action Day 2013 and then within a few hours, saw Alexa's post on the same topic, I knew I wanted to help spread the word.  In Jen's post, she explains that this year, the focus of Blog Action day is Human Rights and goes on to describe that there are 30 articles in the declaration, Article 25 being this:
Everyone has the right to a standard of living adequate for the health and well-being of himself and of his family, including food, clothing, housing and medical care and necessary social services. 
Clearly, from what I stated above, we, as a society, are not living up to Article 25 successfully.
Is this year's' Blog Action Day the day almost over?  Yes.
But our work to right  these injustices has barely begun.
One of the primary beliefs I have adopted as my own through studying yoga is that we are all one.
The world AIDS crisis is my problem.
The hunger crisis in Brunswick County is my problem.
For those left homeless after Hurricane Sandy, I share your burden.
Jen and Alexa reminded me today that I have a responsibility to do what I can to help those in need, and that I, as a blogger, have this wonderful opportunity to use my voice for good.
So, now that I have your attention, I hope you will consider supporting one of these, or another worthwhile cause.
And please be loud about it.
Namsate
Please visit:
Matthew's Ministry to help feed a hungry child in my local area.
The RAINE Foundation to inquire helping out a family still suffering from the effects of Hurricane Sandy.
The Global Fund to find out more how you can support the eradication of the AIDS Crisis,