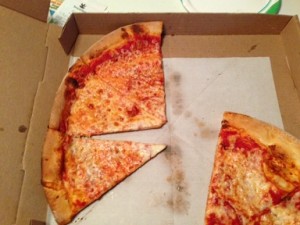 "Does good pizza even exist down here?"  I asked B. on our first date.
"Sure there does," he replied, as he rattled off a short list of reputable places.  Some of them I had heard of.  There was that restaurant in Wilmington.  There was the place in Carolina Beach that had a good reputation.  But good compared to what?
"No, seriously, good enough for a Jersey Girl kind of good?  Because North Carolina people have told me about the 'good pizza' before, but it's never been the same."
Pizza talk took up a lot of our first date.  I decided to get the big things out of the way early.
"I could eat pizza every single day."
"Yoga is very important to me.   As important as pizza!"
"I say the F word way too much.  Which isn't very yoga like I know…"
B. and I sat across from each other in the Indonesian restaurant in Wilmington until closing time, talking about kids and life and work and pizza.
B. was the last of the internet dates that I had agreed to.  After two months on a match making site, where most of the men I had met were not the men for me, I had decided to opt out of my subscription to focus on life in front of me.  I was single parenting.  I was starting a business.  The man thing?  It would have been nice, but it needed to be put on the back burner.  Besides, I was resigned to the fact that I'd rather be alone than take up with a man who wasn't right for me.  And maybe there wasn't a man who was right for me.  Or at the least, maybe not here and not now, in this far off pocket of the world, where my single friends constantly rattled on about the pickings being so slim.
Then along came B.  He was (a) very respectful.  He (b) actually read my internet profile! Which led him to (c) make sure that the restaurant where he suggested we meet on our first date had plenty of vegetarian selections.  Plus, he's (d) upfront, (e) kind, (f) generous. And he (g) always brings me pizza.
He made me forget pretty quickly about my man hiatus.
On an early date, B. surprised me by setting three pizza boxes out on the table in his Surf City home.  "Tonight's the night we're going to find you good pizza," he said.
And while one of the selections was pretty good, none of them were Jersey good.    But B. kept trying.  It became routine for B. to bring a pizza with him when he came to visit.  Elizabeth's in Wilmington (excellent sauce), Pizzetta's in Leland (oh, that cheese!), Long Island Pizza in Surf City (amazing eggplant topping).  They were all good, but "Jersey Good" was still a different story.
"If you ever come to New Jersey with me," I say to B. one afternoon while sitting on the couch, "We'll have pizza for every meal.  We'll have LaScala's the first day, and Villa the next.  And then Luigi's.  And then Brother's. I'll never get tired of eating pizza with you," I say as I curl up next him.
The pizza place by the beach had opened around the same time I had met B.  It was off my path of travel and forgotten about soon after a friend had mentioned them.  But one night, while looking at a house for  rent, I saw the yellow building and decided to give them a try. The cheese was gooey.  The sauce, tangy.  The crust, chewy enough yet crunchy enough at the same time. I was in love.  And after all my searching, the "good pizza" was right in front of my eyes.
Eighteen month ago, I wrote down all of the qualities I wanted in the man I would have my next relationship with. Some of the traits seemed elusive, but I decided to list them all anyway.  I can't help but wonder if we're conditioned to believe that we have to work tirelessly to secure the things we think are most important. Maybe we've convinced ourselves that something is only valuable if we have to struggle to find it. For me, this theory was smashed to pieces when B. dropped out of the sky, this man, who wants to be good to me, who expects so little in return.
My two biggest North Carolina surprises yet?  B. and "Jersey good pizza."
Xo
Editor's note:  Please stay tuned for Part II of A Modern Family Romance, which will publish as part of Laura's series on marriage, on July 23rd. Love to all!